…as the MU's first non-British Worldwide President
Mrs Sheran Harper will become Worldwide President of the Mothers' Union from 1 January 2019.
Photo Credit: Mothers' Union
The global Anglican mission agency Mothers' Union has elected Sheran Harper as its new Worldwide President – the first person from outside the British Isles to hold the position. Mrs Harper, from Guyana, part of the Anglican Church in the Province of the West Indies, will represent and lead the 142 year old movement's four million members in 84 countries from January next year when she takes over from Lynne Tembey, who steps down in December.
"I am delighted to accept the role of Worldwide President for the new triennium," Harper said. "I feel very excited and privileged and I extend my heartfelt gratitude to our members who voted to make this dream a reality.
"Mothers' Union is as relevant today as it was 142 years ago as the call to support families globally is now even greater. We are working alongside governments and other organisations in tackling issues which affect families wherever they are. In remote areas, where there is no access to social services, it is often Mothers' Union that is leading the way."
Born in the United Kingdom, Harper grew up in Guyana where she studied at the University of the West Indies School of Physical Therapy. She undertook her Clinical Practice at Guy's Hospital in London and then worked with the Ministry of Health in Guyana where she opened and managed new physiotherapy departments in hospitals throughout the country and lectured on the rehabilitation therapists' programme.
She stopped working in this area 17 years ago to focus on her calling of serving Mothers' Union. She has served as a volunteer at all levels from parish, diocese and province and is currently a Worldwide Trustee.
Until recently, she was the worldwide parenting trainer where she rolled out Mothers' Union parenting programmes in 23 countries across the globe. Her expertise is often called upon and she has been a spokesperson in her region for Mothers' Union on various interfaith, and international panels and forums.
She has been married to Roger Harper for 31 years and the couple have two grown up sons, Richard and Reginald.
Harper's election was announced by Mothers' Union Chief Executive, Bev Jullien during a Facebook Live session at 12.15pm GMT today (Monday). In addition to Mrs Harper, Mothers' Union members also elected 11 trustees – five from the Provinces within Britain and Ireland; and six from the rest of the world. In addition to the first non-British Worldwide President, the ballots also saw the election of the Mothers' Union's first male trustee: Paul Hindle, representing Scotland.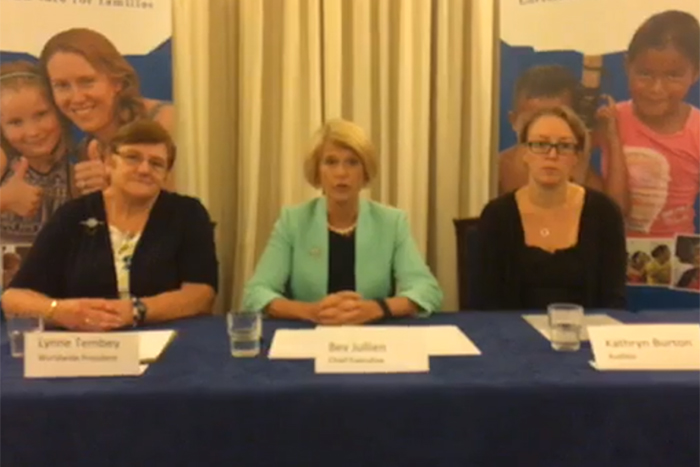 "We are extremely excited with the results", Jullien said. "Not only will Sheran bring her global expertise, but we have a Board that is rich in diversity with eight different nationalities and also for the first time includes a man."
The election took place under new constitutional arrangements, overseen by Tembey. Operating around the globe, the Mothers' Union is a British registered charity established through a Royal Charter – an ancient legal structure overseen by the Privy Council. The Privy Council, the highest level of the British Government responsible for matters reserved to the Monarch, approved the new constitution when it met in April this year, chaired by Queen Elizabeth.
"I thank God for his abundant blessings and his unfailing loving guidance," Tembey said. "I pray that the Lord will continue to guide members and leaders everywhere and especially Sheran and the new Worldwide Board as they take up leadership of the Worldwide Mothers' Union for the coming three years."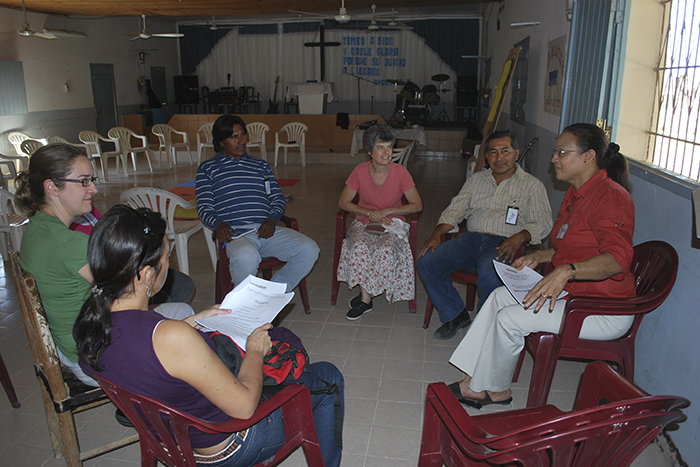 Under the new constitution, the board has the flexibility to appoint four trustees with specific skills to compliment the experience and expertise of the elected members.
The newly elected and re-elected international trustees are: Roshini Mendis (Sri Lanka), representing Zone A (Korea, Myanmar, North India, South India, Sri Lanka); Kathleen Snow (Canada), representing Zone B (Brazil, Canada, South America, USA, West Indies); Libbie Crossman (Australia), representing Zone C (Aotearoa, New Zealand & Polynesia, Australia,Melanesia, Papua New Guinea); Mary Muchai (Kenya), representing Zone D (Kenya, Uganda, Tanzania, Jerusalem and The Middle East); Thembsie Mchunu (South Africa), representing Zone E (Central Africa, Nigeria, South Sudan, Sudan, Southern Africa); and Marie-Pierrette Bezara (Madagascar), representing Zone F (Burundi, Congo, Indian Ocean, Rwanda, West Africa).
The newly elected and re-elected British Isles trustees are: Nikki Sweatman (Canterbury); Catherine Hilton (York); June Butler (All Ireland); Paul Hindle (Scotland); and Jenny Barton (Wales).
Watch the announcement of the election results:
The newly elected and re-elected British Isles trustees are: Nikki Sweatman (Canterbury); Catherine Hilton (York); June Butler (All Ireland); Paul Hindle (Scotland); and Jenny Barton (Wales).
Watch the announcement of the election results:
Mothers' Union announcement of new Worldwide President

Posted by Mothers' Union on Monday, October 8, 2018
First Published on ACNS
October 8, 2018
Congratulations from Provincial MU President
"When I attended my first Provincial Council meeting as Jamaica's representative, I had no idea what to do. Sheran Harper guided me and subsequently nominated me for election as Vice President of the Provincial Council. Over the years, we have developed a strong working relationship. I congratulate her on her elevation to this new office."
Hermine Price – President, Provincial Mothers' Union